Welcome to Casa Aba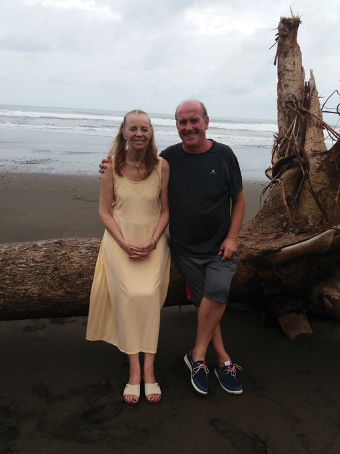 Much more than a hotel, CASA ABA it's a family, a small community even a local micro company … but most of all it's a dream, a dream that becomes the project of an upset life.
The dream began in 2003, from our first visit in Costa Rica. When the magic of the country and under the spell of its people, my wife Michèle and myself decided that it was here that we wanted to live the autumn of our life and enjoy our retirement.
But in 2011, life decided differently. Indeed, that year, the doctors announced me that my wife was affected by a degenerative and incurable disease (disease related to Alzheimer).
So, the house intended to shelter a couple of retired people in a few years, received another destination and this immediately. Indeed, the same year, I decided to leave Belgium for Costa Rica with Michèle. This was the beginning of the CASA ABA project.
For the historical record, ABA is a small village lost in the North of Congo (former Belgian Congo) on the border with the Sudan, where Michèle was born. It is in this small village, that her Dad was murdered, in November, 1964, further to the tragic events of the independence of Congo.
The idea behind CASA ABA was to develop an hotel which would allow me to offer jointly care, safety and peace for Michèle (avoiding the painful solution to place her in an institution).
This beautiful idea became a reality, in this small village of Matapalo, thanks to a few people, a family. This family directly took Michèle under its wing and gives her all the care and all the necessary attention she needs. What allows her to live the most peaceful and happy possible life.
.
This family became mine today. By gratitude and also to give a real sense to my life, I decided to adopt this family, in order to offer them more well-being and security.
The hotel today is quite successful. It offers a full time job to three people. Three people who are correctly paid (they receive the best salary of the region) and who benefit from all social advantages.
As you'll have understood, saying that CASA ABA it's a family, it's not just an image, it's the reality.
A family delighted to welcome you all year long. And to offer you the best, most friendly and attentive service, 24 hours a day, to make your stay unforgettable. We wish you all a pleasant vacation
Philippe and for my wife Michèle